Language Arts
High School English Language Arts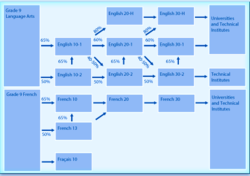 English Language Arts 10-1 / 10 -2
ELA 10 - 1
This course is an introduction to language and literature in high school. The expectation is that students taking 10-1 have strong reading and communication skills as well as an interest in English language arts. 10-1 leads to 20-1 and ultimately 30-1.
ELA 10 - 2
This course is intended to help students achieve success and build confidence in the language arts. 10-2 is the beginning of the series of courses (20-2, 30-2) that provides students with the minimum English requirements for graduation.
English Language Arts 20-1 / 20-2 - 5 Credits
ELA 20 - 1
This course continues the academic examination of language and literature while further developing the student's analytic, research and compositional skills. Literary experiences focus on fiction, non-fiction, drama, and poetry in textual and electronic formats.
ELA 20 - 2
In this course students examine a variety of short stories, essays, poetry, plays and novels. Through literature (textual and electronic), students gain competency and knowledge in terms of practical research and functional communications.
English Language Arts 30 - 1 / 30 - 2 - 5 Credits
ELA 30 - 1
English 30-1 is the culmination of the high school English academic program. Literature examined represents both classical and contemporary authors. Central to this course is the development of confident and competent reading, writing, research and analytic skills that will serve as a critical foundation and bridge to a post-secondary university education.
ELA 30 - 2
English 30-2 completes a high school English program that emphasizes practical communications, research and analytic abilities. This is accomplished through various forms of literature that challenge the student to consider realistic possibilities of self and society in a literate world. 30-2 is an accepted course for vocational and college programs in the trades and technology fields.